Tim Brinkman (Venue Director of G Live in Guildford, Surrey, UK) – 20 Questions
In our neck of the woods, one of the boss venues for music, comedy, musicals, opera et al is G Live in Guildford. The new venue director is Tim Brinkman and we invited him to respond to one of Pete's customised question sets. Can you detect the characteristics  of a real music lover when you read these responses? Thanks, Tim!  
Have you run or would you ever consider running a music festival? Which three acts would you want to approach, if you did?
For five years I oversaw the Bracknell Festival; three days of music mayhem packed into an arts centre site near Reading. It's one of those things that straight afterwards you feel you couldn't repeat but then – hey, what do you know – twelve months later it's all happening again! Allowed the luxury of just choosing the acts my top three would be – Madlib (to completely mix it up), Goldfrapp (love that trippy funky vibe), Queens of the Stone Age (monstrous guitar band – what's not to like).
The third track on an album is often a gem – can you think of any? ( artist / title / source album ) – as many as you like!!!
Another Brick in the Wall – The Wall, Pink Floyd
Working Day and Night – Off The Wall, Michael Jackson
Living for the City – Inner Visions, Stevie Wonder
What three things would you want a concertgoer to your venue to remember or be impressed by?
Our G Live welcome – I'd hope they'd be stuck by how genuinely friendly and enthusiastic we are about their visit.
The sound – G Live is new. It looks great. It sounds great. It is all about the music after all.
Our ticketing service – get your tickets from us. We know the venue and can advise you of the best one for you (PLUS we're usually cheaper than other ticket sites on booking fees etc.)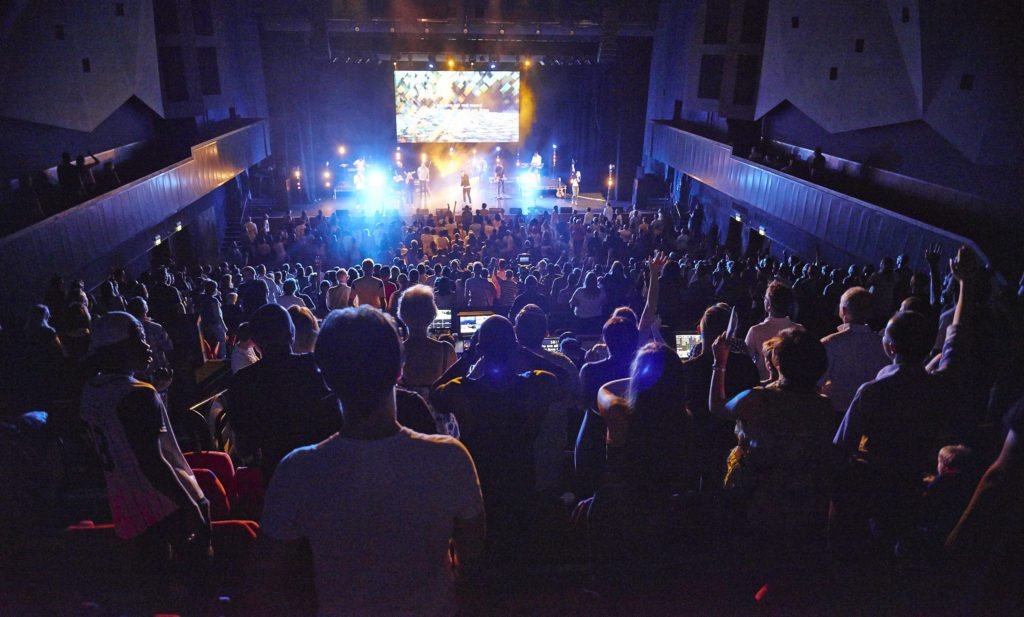 For future classical concerts programming, how adventurous can you – realistically – be? Do you consider it your task to expand public taste by offering fresh things?
First things first; we're all about sharing a joy of the music. That means we must attract the audience; to do that the repertoire and the artists performing are the key components. That doesn't mean we don't offer new things. Last month we welcomed the Mexican National Philharmonic Orchestra on their first ever visit to the UK. It was fantastic.
Which song – any artist, any title – would have made a fine single release ? IF it had been a SINGLE! – why do you think this?
David Bowie – Fascination from Young Americans – at a time when he could have released almost anything there are some notable strong tunes from this album that weren't released as singles (Young Americans and Fame were the only single releases). I've picked Fascination for its funky soul infused sex appeal featuring David Sanborn's stressed out squawking saxophone.
Who would be the ideal host for a comedy gala evening? Why this choice?
It's Morgana Robinson – not only is she hilarious but she's got that knack of bringing out the best in other performers.
Name a TV series where the theme music was better than the actual shows and do you know who created or recorded it?
It has to be Joe 90 – by Anderson in house composer, Barry Gray. Guitar by the brilliantly 60s sounding Vic Flick (played lead guitar on Dr No soundtrack). The song is a great piece of 60s surf style with added pomp – unlike Joe himself who was a bit of a goody goody wimp.
A recording that makes you laugh ….intentionally or otherwise! (artist/track/source album)
Emerson Lake and Palmer. Brain Salad Surgery from the album of the same name. Why do I laugh? Coz I used to love it and now it just sounds bonkers. The album came with a floppy extra disc. I think that was even more hilarious but you know what; I can't find mine…..probably just as well.
Name an album or a couple of albums where the cover or artwork could have been better, in your humble opinion….give any thoughts around this
Album art isn't quite the thing it used to be when formats were large and there was no digital access. But I always thought Florence & the Machine's second album cover wasn't as good as the first – the triplet image of Florence Welch does really reflect the passion and the intrigue inside the music. The first album has a very intriguing image of her on it. Both were a massive success so what do I know.
An acoustic gem? What song/tune and who by? What's the appeal?
Same Situation – Joni Mitchell from Court and Spark. For me, this is Joni distilled.
Is there a song that both you and your Mum or Dad really like? Or liked?
My Dad & I shared a fondness for Pink Floyd – more Dark Side of the Moon than Ummagumma. My Mum joined in but her heart wasn't really in it. She's got some great original Julie London records; I could listen to those all day.
Best 2nd or follow up album of all time and why ? (I love The Doors 'Strange Days')
Cream – Disraeli Gears. This is their quintessential album; it includes Strange Brew, Sunshine of Your Love and Tales of Brave Ulysses. Eric Clapton's riff on Sunshine of Your Love IS Cream.
Name an actor or actress who made a listenable song recording – and what's the appeal?
Okay, confession time. I'd like to confess to a fond attachment to Spandau Ballet, so it's Martin Kemp – he isn't a great bass player (mind you his brother is pretty handy) but the appeal is the great songs and the total style.
Where in the world in your opinion / experience is live music best received? What venues appeal?
Uh, G Live, obviously! Putting aside my bias, I would vote for an indoor venue with a capacity of 2,000 or less. You're close to the band; you can see them and they can see you. You're with a definable crowd and feel part of something intense and unique. Can't beat it!
Has a radio DJ anywhere ( and any era) ever impressed you and if so why?
John Peel is quite simply impossible to beat. He loved music and always chose provocative examples, giving a boost to adventurous musicians and encouraging listeners to broaden their scope.
Can you dance? Do you dance? How do your family rate your dancing?
I trained at the Place, the London Contemporary Dance School. I am useless. But I like to dance – my kids, however, have banned it. Apparently any sight of me dancing may well end up in them being permanently excluded from any relationship with any other young person.
Please name a favourite song or instrumental (any genre) (3 of them) with the title including the word 1/ 'Two', 2/ 'Five' and 'Nine' ? Explain your choices
Two Tribes – Frankie Goes to Hollywood. Dance anthem plus a great video of Reagan and Gorbachev fighting it out mano a mano.
Five Years – David Bowie. From the Ziggy Stardust album, when concept albums were fun.
Revolution # 9 – the Beatles; drug fuelled studio caper whilst Ringo had temporarily left the band
Which is the best sequenced album- any artist, any genre – that you really rate and why is this ? any favourite songs or pieces on this album? ( I like the running order of Spirit's ' 12 Dreams of Dr Sardonicus',,by the end a lot of ground has been covered )
The Dark Side of the Moon – Pink Floyd. The painstaking seamless editing makes it hard to really consider the album as one made up of separate tracks. Listening to Money or Breathe on their own leaves you feeling short changed without Us and Them or On The Run to follow.
Boz Scaggs and Stevie Nicks record a song together – suggest a song and who would be in the band
Silk Degrees is a pretty cool album isn't it so let's go for We're All Alone.
Here's our line-up behind the Scaggs/Nicks combo:
Bass – Herbie Flowers
Saxophone – Clarence Clemons (come back Clarence!)
Guitar – Boz
Keyboards – Rick Wakeman (he's an amazing musician but you know I saw Rick in panto once!)
Brass and Strings – The Philharmonia
Percussion – Mick Fleetwood (who else?)
Did you enjoy school? whether you did or not, which song reminds you of schooldays (artist/title/source album)?
I hated school. I went to a chaotic massive comprehensive where it was hard to choose which thing to rebel against first. "All Right Now" by Free would remind me of those days – it wasn't all right but the bluesy free flow of that tune made it bearable.
Pete Sargeant
G Live has been developed as a contemporary, state-of-the-art entertainment and concert hall for Guildford and the region beyond. It has a diverse programme of live music, theatre, comedy and much more  that has been entertaining audiences since it opened its doors in September 2011. For tickets to upcoming shows and to sign up to the G Live mailing list visit: https://glive.co.uk/Online/default.asp  To contact the ticket desk call 01483 369 350
(Thanks to Tim Brinkman for taking the time to take part in our '20 Questions With…' series and for providing the images that  accompany this article)