Hannah Trigwell – Making Music With Honours
Hannah Trigwell is a self-taught singer-songwriter from Leeds first found fame across the globe through uploading videos of her performances to YouTube, and now boasts more subscribers than Cheryl and Paloma Faith. With her new single release and an upcoming headline acoustic tour in May 2016, we sat down with Hannah and asked her some questions: 
Could you please tell me about the single 'Another Beautiful Mistake'
It has a strong drum beat, chugging acoustic guitar and electric guitar riffs which drive it. The song is about feeling like love which becomes unrequited, and about feeling out of control when that happens.
Here is the music video for 'Another Beautiful Mistake': 
Do you have any favoured stage instruments?
I feel most at ease with my acoustic guitar, but have a little bit more fun on electric. It's always fun to get out the bass guitar too!
What is the live music scene in Leeds like?
It's cool, very diverse. I'm not as 'in it' as I used to be now that I tour in other cities too. There are so many amazing undiscovered artists in Leeds, and with music on most nights in most bars you're in for a treat if you visit.
Last year you performed at Isle of Wight Festival. What was that experience like? Did you meet any other artists at the festival?
It was amazing! I have always wanted to perform there. I met a couple of different artists there and it was cool to see Kelvin Jones do his thing – we have the same management. Isle Of Wight had a killer line-up last year, so to be part of that was just really cool.
When you were at university you released two EPs of original material. Which university did you go to and what did the other students make of your music?
I graduated with a 2:1 in Biology (hons) at The University Of Leeds. My housemates loved it haha, I don't think most people on my course knew about it because I tried to keep music and education quite seperate, it was difficult enough to juggle without the two intertwining!
How important are platforms such as YouTube, Pledge Music, Twitter, Facebook etc for an emerging artist? 
YouTube has been amazing for me, to spread the word about my music to an audience that would never have heard of me, Facebook as well. Twitter is great in that I can keep in touch with my followers and update them most days on what is going on, even if I'm just having a biscuit ha. Pledge Music I have heard a lot of great things about, and am going to start a project with Pledge very soon, so I will keep you posted.
You started busking in Leeds when you were seventeen. What did you learn from that experience?
I got street-wise, I learnt how to perform and be confident with it. It was a great experience, I would recommend busking to anyone who wants to be a performer, it's a whole different ball-game than being on a stage, and it certainly helped me make a smooth transition from bedroom to stage.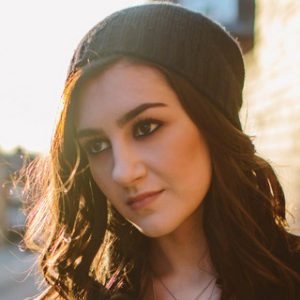 What do you have planned in terms of future releases?
I'm going back to Germany soon to work with a great producer called Sky Van Hoff on some new singles. The next release will be a music video, but I'm keeping the details on that under wraps, for now.
Can you suggest two tracks each by any artist that make ideal listening for a) a night in, b) a seaside vacation and c) a long car drive?
a) Ed Sheeran, Frances
b) Red Hot Chili Peppers, The 1975
c) MUNA, Kings Of Leon
 Did you enjoy school? Regardless of whether you did or not, what song/s remind you of your schooldays?
I loved school. One of my best friends made me a mixtape when I was 16 which had hellogoodbye, The Weepies, Panic At The Disco and many other artists on there… so songs from that mixtape really take me back.
Glenn Sargeant
Hannah Trigwell's new single 'Another Beautiful Mistake' is out now. In addition, Hannah Trigwell will be embarking on a four-date headline tour with special guests Kelvin Jones and Corey Fox Fardell. The tour will stop at the following venues:
In addition, Hannah Trigwell will be performing at the following festivals:
Thursday 19th May 2016 – The Great Escape Festival, Brighton, United Kingdom
Saturday 4th June 2016 – Nomad Festival, Cologne, Germany
(Many thanks to Hannah for taking part and to Ant Giannaccini at Wilful Publicity for helping with this article)