LAURENCE JONES
Into Temptation
Rising guitar ace and singer/songwriter Laurence Jones has a new album 'Temptation' out on RUF Records and talks music with us just before taking to the stage at Boom Boom Sutton on a fabulous bill with Coco Montoya…
JLTT: Right, Laurence – good to catch up. The first obvious question has to be, how did you enjoy playing at The Walter Trout Benefit? I was there and you seemed to be having a good time
LJ: It was absolutely incredible for me to do that for Walter
Amazing bunch of artists ….( This was a star-packed benefit show put on by promoter Pete Feenstra, at Shepherds Bush Empire in London, to raise funds for Trout's medical treatment and at which your scribe was a happy paying punter – PS )
Yeah it was a great night. All of the artists came together and put in a good effort. Did what they can for Walter. It was amazing really because I'd supported Walter there in November at Shepherds Bush on the last UK date he did. He got me up to jam with him so it was really special for me to get up there and do that for Walter, this time….
It seemed to me that everybody was there with the right idea; to get on, do their bit and make way for the next act. Obviously, these things with multi-bills you've got leave your ego at the door and just get on with it
That's the thing, Pete – it's not about yourself it was about Walter that night
Who was playing with you that night?
I had Luke Golden and Toby Wilson
Are they on this new record?
No on that record it's Yonrico Scott and Charlie Wooton  from the Royal Southern Brotherhood. It was produced by Mike Zito.
Walter plays on this one doesn't he?
Yeah Walter plays on the title track of the album 'Temptation'..when he came over in 2012 he promised me. He said 'Hey kid, I wanna play on your record.' He stuck to his word and it was December 2013 when he did it, even when he was really ill !
That's why every artist said yes to the SBE show. Tell me about the title track 'Temptation' because it's actually quite a grower
Well I actually wrote that for Walter after we went on tour with him. He told me 'You've got a clear head of yourself. Don't get hooked up on drugs and alcohol like I did. Don't let temptation get the better of you.' He said that I was part of the future of the blues and he didn't want that to happen to me. He sat me down and drilled that into me. So I was so inspired that I wrote that song for Walter.
I had that lesson at eighteen. My hero was Peter Green and the first band I ever saw was Fleetwood Mac with half of Chicken Shack sitting in. I was blown away but I met Peter a couple of years later playing snooker in a Surbiton pub and I found out he'd been in Germany with the Grateful Dead and they'd given them acid. He and Danny of Fleetwood Mac had never really returned from it…
Really?
Yeah It's a good lesson to learn mate. Now when you record, it sounds to me as though you're closing your eyes and you are always as if you are on stage. I could be wrong but tell me
Well on this album, that's what we did. We wanted to go for that live feel and it was almost as if you are capturing what you are at that moment in time rather than going in there and doing a pristine clean-cut album
That's what I'm sensing but I didn't know whether that was true or not
We wanted to get the raw, gritty sound. I wanted to keep it real and live. We recorded it in America and we were just going for that sort of feel
Yeah. I think the trouble with a lot of blues rock records now is they are a bit too clean. It drives me towards artists like Chris Duarte…
That's the thing. The blues isn't meant to be absolutely perfect. That's what's amazing about it
It's always to me, seemed at best it mirrors life rather than creates a fantasy
Exactly. Nothing's perfect in life and neither is the music but that's what makes it so good
You've got The Groundhogs over there and Yes over there
(Laughs) Exactly!  I used to listen to all of those records when I was growing up as a kid. I listened to 'Split Part Two' by The Groundhogs and that was my favourite
The drummer could play harmonica really well. I didn't know until I saw them live. When you are playing live, you tend to use Strats I think. What draws you to that instrument?
The Stratocaster. Well, all my heroes use them Jimi Hendrix, Rory Gallagher, Eric Clapton, Stevie Ray Vaughn and Walter Trout…
They do stay in tune which is a good thing. What strings do you use though?
Well Coco's just given me a Hybrid String set of tens and they go to eleven on the bass. So it easier to bend on the high notes but when you get to the low notes you've still got that chunkiness.
Please tell me you don't do this silly E flat thing?
(Laughs) I do the silly E flat thing!  I've only recently started doing that just to try it out….
… like Joanne...
Joanne Shaw Taylor?
Yeah….
(Laughs) She actually got me into that when we were on the Blues Caravan Tour !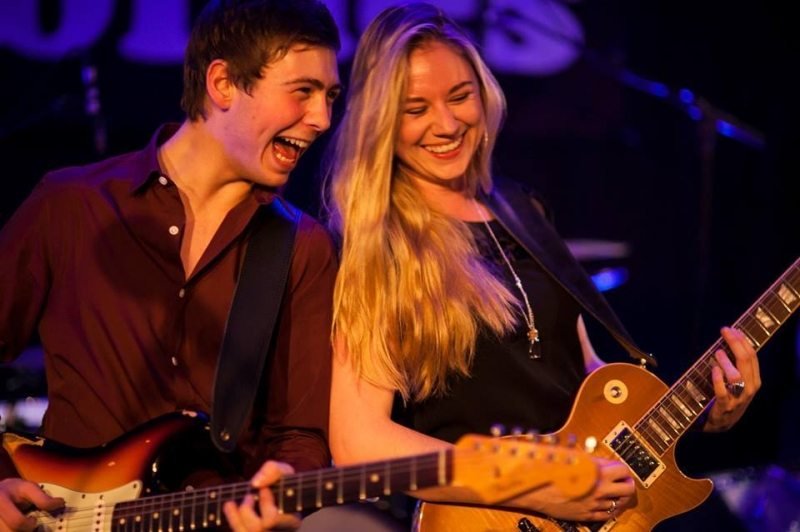 So when you're recording, do you do everything live and put the vocals on later or do you mix it up?
We do everything live and then I put the vocals over the top. On 'Bad Bad Dream' we did that. Mike Zito said 'You've got one take on this. We wanna keep it as real as possible so if you mess it up that's what it is.'
Ok. Now obviously, you get a kick out of being on the road with other people. I know you learn a lot when you are with them. Is there an artist beyond Walter that you think is doing exactly what you plan to do in the future?
Yeah. Well Coco himself, you learn a lot of life experiences, just listen to him !. We just wanna keep bringing in the young audiences for the blues
You're the next wave behind the Aynsley Lister's
Yeah. I'd like to aspire to Joe Bonamassa's level…
I know Joe ..we can talk for hours about guitars….what Joe does is surprises people by bringing out funk albums and acoustic albums. In time, could you see yourself doing a jazzy record or a country-ish one?
I could..but see myself still being true to the blues as it's what I love. I don't think I could really go off and do the country thing. But I can always learn from different genres and add it in to what I'm doing….
Yeah. Some of your phrasing occasionally is reminiscent of a guy called Delbert McClinton ..who is a blues, rock, country 'mix it up' guy
I like him.
Therefore, you're obviously listening to more than just pure blues records because you are exposed to what's on the radio or whatever 
It's not like you're going back to the Sixties and just playing a straight-up blues record. I'm trying to add a little bit of modern to it for people who will appreciate it in 2014
The Strypes are a great powerful band and they seemed to have ignored three or four decades and gone right back to the spirit of what they really loved. Of course, you grew up surrounded by remixes and sophisticated music electronically based. It must almost feel like going to a foreign land, if you sort of find your way into blues with its stops and starts, its bends and everything else. At your age, how do you see that?
I see it as the other music is foreign to me because I've always been brought up on the blues. As soon as I heard it I knew……
I assume your parents had blues records in the house
Well I started out on the classical guitar and that was very structured and I learnt a lot from that. I wanted to do something that wasn't just structured. I heard the E seventh chord as there was a keyboard player playing with me on a classical concert and at rehearsal he added that. I said 'What's that?' and he said 'That's the blues note.' I then said 'Right. I wanna do that.'
You're doing a set tonight. You write virtually all of your own material don't you? Do you ever do anyone else's songs your way?
There was a song on my album 'My Eyes Keep Me in Trouble' and that's our own version of that song which is originally a Muddy Waters song….no one else had really covered that song. Mike literally said in the studio 'Lay down a drum beat and we'll follow you from there.
I gave Kenny Wayne Shepherd a John Lee Hooker 'Live at the Café a-Go-Go' album and it's Muddy Waters band backing John Lee Hooker…he didn't have it.
That's great !.
You should make a live record or EP at some point obviously
Speaking of that, we've just done The Blues Caravan Tour in Europe and we did a live DVD so that should be out in the summer…
Enjoy yourself tonight and have a good gig, Laurence…
Cheers. Thank you very much, Pete
Pete Sargeant
(Feature Image Photo Supplied By GFI Promotions & Photograph Taken By Kevin Cooper)
Laurence Jones's new album 'Temptation' is out now on Ruf Records. 
For more information visit www.laurencejonesmusic.com
( Thanks GG, thanks GRS )