Anne McCue Announces New Album and 2016 UK Tour.
Musician Anne McCue is back with a brand new album  'Blue Sky Thinkin' which is out now and she will be supporting the release with 10-date UK and Ireland Tour in August 2016.
Her latest, Blue Sky Thinkin', while containing all new originals, is a tribute to some of her favourite guitar players such as Django Reinhardt, Charlie Christian and Mississippi John Hurt. 
Album Tracklisting
Dig Two Graves
Things You Left Out In The Rain
Spring Cleaning In The Wintertime
Devil In The Middle
Long Tall Story
Little White Cat
It Wasn't Even Fun While It Lasted
Save A Life
Uncanny Moon
Cowgirl Blues
Knock On Wood
Blue Sky Thinkin'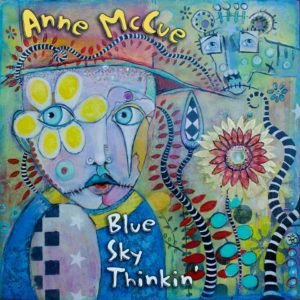 You can watch a video of Anne McCue performing 'Little White Cat' at Hotel Cafe, Los Angeles, United States of America here:
Anne McCue's UK and Ireland Tour will stop at the following venues in August 2016:
Aug 3 Grateful Fred's, Liverpool UK
Aug 4 City Screen Basement, York UK
Aug 5 The Venue, Lymm UK (tbc)
Aug 6 Little Rabbit Barn, Ardleigh, UK
Aug 7 The Greystones, Sheffield UK
Aug 9 Ryan's Bar Kilkenny Arts Fringe Fest Ireland
Aug 10 DeBarra's Clonakilty Ireland
Aug 11 Dublin  (email me for details)
Aug 12 Kingsmeade House Concerts, High Wycombe, UK
Aug 13 Green Note, London, UK
Aug 15 The Greys, Brighton UK
For more information visit her official website here: http://bit.ly/2aKY0I1
Glenn Sargeant
(Many thanks to Anne and James Soars for help with this announcement)