The Cornbury Music Festival returns for its 13th year from Friday 8th July – Sunday 10th July 2016. JLTT attended last year's festival in the beautiful surroundings of The Great Tew Park, Oxfordshire, United Kingdom and the weekend was full of surprises. We rather doubted they could top last year but…
2015 included: 
Lulu's spellbinding version of David Bowie's 'The Man Who Sold The World', the incredibly funky STAXS with very special guest Joss Stone and The Trevor Horn Band's star-studded set which was jam-packed with hits and the wonderful Seal.
You can read our review of Cornbury Music Festival 2015 here: http://bit.ly/1lCXH4o
In addition, we interviewed the festival's director Hugh Phillimore about organizing such a fun festival, catering for families and his love of music. You can read our interview here: http://bit.ly/1lE3MOf
Well, The Cornbury Music Festival 2016 has now announced more names for their weekend lineup and as usual it is an eclectic mix of true legends, rising stars, must-sees, original rockers, awesome live performers – a lot of big hitters.
The music lineup and day splits are below:
Friday 8th July 2016
Jamie Cullum (Main Stage Headliner) At JLTT we have seen Jamie live several times and you never know what to expect from one of his sets! You can read our articles about Jamie Cullum here: http://bit.ly/240SyWn
Soul II Soul (The toe-tapping soulsters still going strong)
Lemar (Lemar's version of the classic song 'The Letter' is definitely one to watch out for!)
The Beat (Hopefully playing THE great edgy single of the era 'Mirror In The Bathroom'. We understand Rankin, Roger is aboard for this performance)
Wilko Johnson (The Cornbury Music Festival is very special to Wilko and it is a welcome return for him and his fantastic band of Norman Watt-Roy (bass) and Dylan Howe (drums). You can read our articles about Wilko Johnson here: http://bit.ly/1QbRomQ
Port Isla
The Lottery Winners
The Dunwells (The Dunwells are back with a brand new album 'Light Up The Sky' after releasing their successful EPs.) You can read our articles about The Dunwells here: http://bit.ly/1LkOjte
JD and The Straight Shot (JD and The Straight Shot are an American five-piece who blend genres such as country, blues and Americana to create their unique sound. Having opened for The Eagles, catch this band at Cornbury as they don't play our shores very often.) You can read our articles about JD and The Straight Shot here: http://bit.ly/1Prep1r
Saturday 9th July 2016
Bryan Ferry (Main Stage Headliner)
Lucinda Williams (Alt-country star Lucinda Williams has released here new album 'The Ghosts of Highway 20')
Mavis Staples (Still taking the stage with attitude, warmth and some great soul classics)
Gabrielle Aplin
The Shires (Country influenced duo making waves in the roots music scene)
Turin Brakes (The act that prove beyond doubt that subtle songwriting can find a home)
Red Sky July (Three of the best musicians in the folk-rock scene in one effective trio)
Cattle & Cane
Sunday 10th July 2016
Seal (Main Stage Headliner) (The master of mood and indeed the stage – a wonderful booking)
James Morrison (Soul influenced singer-songwriter and consistent performer) You can read our articles about James Morrison here: http://bit.ly/1oa0VyK
Newton Faulkner (We had the honor of assisting this guitar genius from his earlier days as a solo act and hold his skill at composing and interpreting very highly.) You can read our articles about Newton Faulkner here: http://bit.ly/1QbSxea
The Zombies (Probably the UK's moodiest pop-rock act of the Sixties)
Tunde (The Voice of The Lighthouse Family)
STAXS with very special guest (Soul powerhouse aggregation featuring ace guitar man Tony Remy)
Fred Abbot (Ex-Noah and The Whale guitarist who is touring his new album 'Serious Poke' with his band)
Kelvin Jones
Ramin Karimloo (Musicals star who makes his major UK festival debut)
Bjorn Again (Closing the Songbird Stage with a collection of ABBA hits)
(More artists to be announced)
'It really is a classic Cornbury line-up – seriously great artists', enthuses festival promoter Hugh Phillimore. 'Of course I'm delighted that Bryan Ferry has agreed to join us and thrilled that Seal couldn't wait to come back and treat us to a full headline set. We're also excited to welcome a host of incredible female artists across the generations – Gabrielle Aplin, Lucinda Williams and Mavis Staples.'
There is something for everyone with a fantastic line-up over four stages, a comedy stage, brain-tingling literary talks, a creative kids zone, a disco in a garden shed, head-to-toe healing in the Therapixie tent, a traditional funfair, an exclusive VIP area and beautiful campsites nestled in the estate's rolling hills.
 The Festival is very much a family affair. The colourful, creative Kids' Zone is right in the middle of the festival, in sight of the main stage, so families can drop in and out whilst seeing all the festival highlights; and, unlike other festivals, all activities are free with no need to book in advance, just turn up and join in.
Glenn Sargeant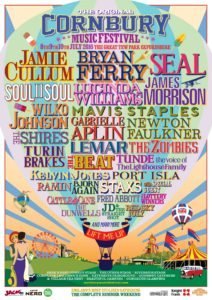 To buy or upgrade tickets go to www.cornburymusicfestival.com/tickets or call the ticket hotline 0844 338 0000. 
Facebook: /cornburymusicfestival
Twitter: @Cornbury
Instagram: @cornburymusicfestival
(Many thanks to Kathryn Custance, Hugh Phillimore and Pete Sargeant for helping with this announcement)