The Apocalypse Blues Revue
The Apocalypse Blues Revue
(Provogue Records/Mascot Label Group)
Affecting a somewhat scary-eyed image on the cover art, this four-piece claim to mix up blues, heavy rock and a pinch of punk, nodding to blues traditions and history but adding their own touch. Obviously the performance stage will be the litmus test for the veracity of these but let's the players – Godsmack drummer Shannon Larkin joins guitar man Tony Rombola and bassist Brian Carpenter, adding singer Ray Cerbone aka Rafer John.
On to the tracks in this set then:
'Evil Is As Evil Does' kicks off the run and the recording quality jumps out at you, the whisky-soaked voice grabbing your attention next as the shuffling guitar chugs around the tune, Rocky Athas-style. 'Junkie Hell' has an ominous drumbeat and stone blues tempo with squealing guitar runs. It plods a bit but does sound authentic as the singer tells a grim tale of addiction.
'Devil Plays A Strat' – no, the accordion surely ?! – has swagger of its own and brilliant wah'd guitar; 'I Think Not' is a gentler piece that puts me in mind of Bobby Bland..this singer sure cab out over a story and he's giving the record real character.
'Whiskey In My Coffee' is an upbeat treat emphasizing the skill of the rhythm section on the Setzeresque song; 'The Tower' hits a doomy lonesome vibe from the off and here the guitar playing shows real fluidity and style over a conspiratorial vocal. Best song here and an almost Doors tinge, this is the cut you'd play to mates; 'Crossed Over' has an overdriven Albert King atmosphere that works well. 'Blues Are Fallin' From the Sky' is sprightly and has tempo tricks that keep you listening – nevertheless Rafer John stays in the saddle.
'Work In Progress' batters its way into earshot and is ZZ Top gone dark; 'The Devil In Me' has a delicious rolling fuzz riff and curling axe figures, sounds like set-starter to me. 'Blue Cross' is a trip to acoustic roots and another tale of a song, expertly delivered and sung. The collection ends with 'Music's Over' on the edition I have and heads into Doors territory
A well-played bunch of songs with a first-rate singer and a really good grip of varying tempo's, with 'The Tower' as standout song.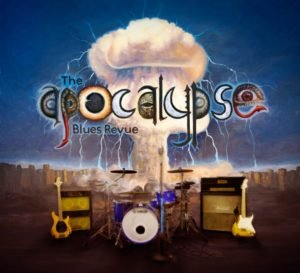 Pete Sargeant
The Apocalypse Blues Revue's debut self-titled album is out now on Provogue Records/Mascot Label Group. For more information visit their official website here: http://bit.ly/2bixnYK
(Many thanks to Lee for help with this review)