Inglorious
Inglorious
(SRL Frontiers Records)
So here's the debut album on the Frontiers label from British rock band Inglorious.
Grimy organ chording reminiscent of the late great Jon Lord heralds the album opener Until I Die and chugging guitar approaches like a military helicopter until a steady Schenker style riff starts and full-blooded vocal from Nathan James sits over the dirty cloud of noise. James' voice seems initially like a less bluesy Dave Coverdale but it quickly sounds his very own as the record plays. Jeez, how Alan Freeman would have loved this tuneful but heavy crew ! The mixing and mastering by John Mitchell keeps the ensemble sound very much airborne and dynamic. It's an impressive effort an keeps your speakers working. One can only hope that the album is heard on decent stereos and not just PC speakers, impressive though my model's SkullCandy's are…
No let up with Breakaway, James sounds born to make this music. Subtle flanging and phasing creep in here and there and on this cut a brisk wah'd guitar break does the business. Maybe Nathan is a fan of our great pal and inspiration Glenn Hughes? It sounds like it. High Flying Gypsy takes too much from Kashmir BUT the lyrics here are great and bass throb spot on (Colin Parkinson) with the drums (Phil Beaver) empathetic to the build of the tune. Why do so many hard rock drummers feel the need to play every item in the kit so often? It smacks of desperation to impress, I prefer Beaver's approach which is to work to the song.
This lot are no MC5 but the guitars of and Wil Taylor do work very well together. Live, they will have to get as separate a sound as they can, preferably with different make of amps, or mush the guitars together and lose some of their distinctiveness.
Holy Water sounds like a stage winner already, James sings the back off it. His is the kind of voice that will need looking after as perhaps too often he sounds flat out. The tempo change is nicely handled, here. Warning is a cloud of fuzz with an ominous almost slowed-down ZZ Top tempo and slide before it races off into faster territory.
Stately acoustic guitar on Bleed For You which is a song evoking vintage Alice Cooper in its mood and delivery. Nathan takes it a little easier on the vocal but not for long. The eerie intro to Girl Got A Gun changes the mood a tad, it has the best lyric and vocal delivery here, there's a touch of Alice In Chains and a well-handled ensemble vocal in the production.
You're Mine sounds like a set-starter to this old guitar honcho, terrific drumming. The title cut is taken at a brutal, belligerent tempo but the flanging sky's the production and makes it special. I could see this getting radio play from cognoscenti stations. Imaginative construction and elements and again surely a performance vehicle to die for?
Wake shows a more tender side to the group and a lovey song. This sort of material gives the record light and shade which does ice the cake; closer Unaware is somewhat spooky, piano sweeps and all. Then the fuzztone rhythm guitar and dancing trebly lead are back, a cool sometime semitone shift giving a restless vibe to the tune.
So…..classic hard rock style music but brought up to date in some respects and will appeal to males and females, I am sure. James needs to look after his voice but he's a pro so will be on the case. The group playing sounds great but it's the melodies that really get to you on this record, believe me.
Pete Sargeant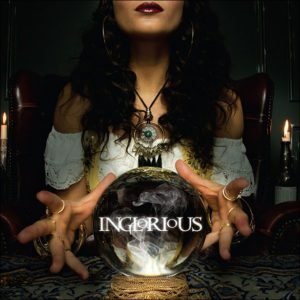 Inglorious's self-titled debut album is released on Friday 19th February 2016 on SRL Frontiers Records.
In addition, Inglorious have been announced as the special guests for The Winery Dogs 'Double Down' European Tour in January and February 2016 at the following venues:
Friday 29th January 2016 – Essigfabrik, Cologne, Germany
Saturday 30th January 2016 – Kulturefabrik, Esch-Sur-Alzette, Luxembourg
Sunday 31st January 2016 – O2 Forum Kentish Town, London, United Kingdom (Moved from O2 Shepherds Bush Empire)
Tuesday 2nd February 2016 – O2 Academy, Bristol, United Kingdom
Thursday 4th February 2016  – O2 Ritz, Manchester, United Kingdom
Friday 5th February 2016 – O2 Institute, Birmingham, United Kingdom
Saturday 6th February 2016 – Trabendo, Paris, France
Monday 8th February 2016 – Kafe Antzokia, Bilbao, Spain
Tuesday 9th February 2016 – Joy Eslava, Madrid, Spain
Wednesday 10th February 2016 – Sala Apolo, Barcelona, Spain
Friday 12th February 2016 – Crossroads, Rome, Italy
Saturday 13th February 2016 – Z7, Prattelin, Switzerland
Monday 15th February 2016 – Backstage Halle, Munich, Germany
Tuesday 16th February 2016 – Majestic Music Club, Bratislava, Slovakia
Wednesday 17th February 2016 – Barba Negra Music Club, Budapest, Hungary 
Tickets for all of the dates can be purchased here: https://www.musicglue.com/the-winery-dogs/
After this tour, Inglorious will return for a ten-date UK Album Launch Tour which will stop at the following venues:
Sunday 21st February 2016 – (Official Album Launch Show with special guests Ali Clinton and Curran) Islington Assembly Hall, Islington, London, United Kingdom http://www.ticketmaster.co.uk/event/1F004F4FBB27C426?camefrom=CFC_UK_BUYAT_97249
Tuesday 23rd February 2016 -The Brook, Southampton, United Kingdom (With special guest Ali Clinton) http://www.wegottickets.com/event/342265
Wednesday 24th February 2016 – Robin 2, Bilston, United Kingdom (With special guest Ali Clinton) http://www.seetickets.com/event/inglorious/robin-2/925911?aff=id1bandsintown
Thursday 25th February 2016 – The Flowerpot, Derby, United Kingdom (With special guest Ali Clinton) https://www.gigantic.com/inglorious-the-flowerpot-2016-02-25-20-00
Friday 26th February 2016 – The Old Courts, Wigan, United Kingdom (With special guest Ali Clinton) http://www.theoldcourts.com/#!whats-on/ci4v
Saturday 27th February 2016 – Garage 2, Glasgow, Scotland, United Kingdom (With special guests Ali Clinton and King Lot) https://tickets-scotland.com/ingl0
Sunday 28th February 2016 – The Caves, Edinburgh, Scotland, United Kingdom (With special guests Ali Clinton and King Lot) http://www.rippingrecords.com/tickets.php?id=4882
Monday 29th February 2016 – The Fruit, Hull, United Kingdom (With special guest Ali Clinton) https://www.hullboxoffice.co.uk/tickets/buy_ticket/871
Friday 17th June 2016 – The Musician, Leicester, United Kingdom http://www.wegottickets.com/event/341390
Saturday 18th June 2016 – The Scene, Swansea, Wales, United Kingdom http://www.derricksmusic.co.uk/
Friday 19th August – Sunday 21st August 2016 – Weyfest 2016, The Rural Life Centre, Farnham, Surrey, United Kingdom http://www.weyfest.co.uk/ 
(Inglorious will be appearing on one of these three days and not the weekend) 
For more information visit: www.inglorious.com
(Thanks to Peter Noble)