Lody Kong
Dreams And Visions
(Mascot Label Group)
So I have been sent a brand new heavy rock album by an outfit called Lody Kong. There are times during this music journalism lark where you need to step outside of your comfort zone and approach styles and genres and for me heavy metal/screamer metal is that genre.
However, as I peruse over the press release I notice that Lody Kong was formed by Igor and Zyon Cavalera – the sons of Sepultura/Soulfly/Cavalera Conspiracy's Max Cavalera and although I may not be familiar with their work I do know that in the metal world they are clearly pedigree.
So let's begin with the opening track 'Chillin' Killin' which hears Zyon Cavalera on the drums and he doesn't hold back as the the eerie bass courtesy of Shea 'Shanks' Fahey lets you know that we are not dealing with the dulcet tones of Aled Jones with this release!
Title track 'Dreams and Visions' has Igor Cavalera lead vocals take a sinister demonic turn which is exactly what Lody Kong are best at and it is my favourite track on this album as it has a real drive and the vocals are edgy.
'Kreative Center' (the writer in me will forgive the intentional spelling mistake) makes you feel uneasy as John Bauer's squeals like a pig which seems appropriate as the next track is 'Pig In The Pen' with Igor singing about 'filth' and 'sin' and how he can't wash his skin. I think it is in an emotional/metaphorical sense as the song's pure anger clearly comes across. Audiences will bang their heads to this one with absolute delight but if you are looking for a song about farm animals for your young children best stick with the classic 'Old Macdonald'.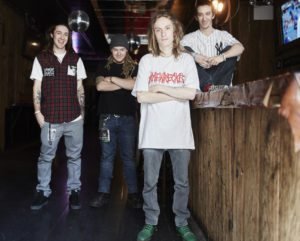 I absolutely love the drum intro on 'Smashed And Blasted' but I feel that this will only be heard in people's homes or at live gigs as radio will probably not play this unless it is heavily re-edited. But I think Lody Kong don't want to be part of the 'phoniness, fakery and pretension of the modern scene' which is exactly what their own personal mission statement proclaims. I mean credit where credit is due, at least they have a set goal in mind which is impressive.
'Some Pulp' showcases the band as a tight unit and it is incredibly sad song about the acceptance of a relationship breaking down as Igor growls 'blood in, blood out it's all just the same'. Some really brutal lyrics delivered with a frenzied music backing. There's me thinking it was going to be about buying orange juice… Live and learn
'The Dangerous Quest' would work really well at Download Festival as thousands of people jump up and down whilst the spacey guitar is played. I can't help but think of Lordi when I hear this track in terms of the band's raw energy.
'Topaz' sounds like a harsher Green Day but the lyrics 'I don't wanna wake up' doesn't fill you with hope but just fear and darkness.
In summary, Lody Kong are talented and fast paced musicians who will continue to excel in the arena of heavy metal/screamer metal but I didn't feel like the album had enough songs to captivate my interest. I think they are probably more of a live act rather than a studio one but by no means is that a negative statement, quite the opposite. I do recommend listening to this release either through speakers or in the car as headphones (which I tried out of curiosity) don't do the album justice.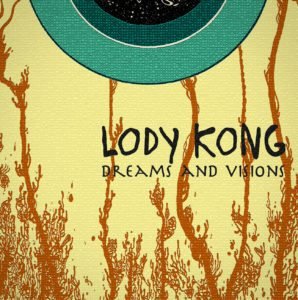 Glenn Sargeant
Lody Kong's debut album 'Visions And Dreams' is out now on Mascot Label Group. For more information on the band visit their official Facebook Page here: http://bit.ly/1UvSyeu
(Band Image credited to Nick Steever. Thanks to Lee Puddefoot at Mascot Label Group for help with this review)