Mark Harrison
Turpentine 
(Independent)
The CD booklet has a stern image of the star plus song lyrics and pictures of a resonator guitar, band members, Harrison smiling and a stage shot of him playing an acoustic twelve string with his band. Oh and some liner notes on the songs included. From these, Harrison seems taken with blues history and origins and has a lyrical bent to what Canned Heat dubbed ' The Human Condition'.
The players are Mark Harrison vocals, national and 12-string, Charles Benfield vocals and double bass, Ed Hopwood vocals harp and drums and Paul Tkachenko mandolin, keys and accordion. Production by Tim Bazell.
Opening with nimble guitar we hear a voice that sounds more folk in timbre than bluesman. This song Black Dog Moan includes reference to 'turpentine' the album title. So Many Bad People features slide resonator guitar and tells it like it is. This would and probably does sound great in an intimate folk club room. Out with the 12 string for Hell Of A Story which a has a ragtime feel and a tinge of Dylan. In The Dark seems like a nod to early Ry Cooder, albeit with a lighter voice; Dog Rib has some effective slide. Dirty Business could be a Jesse Fuller tune, the accordion fattening the band sound.
The gentle tumble of Fade Away is a pleasant interlude; Next Of Kin is the most atmospheric song on the record and sounds unremittingly sad. Mister Trouble is very much the kind of number that Paul Jones would play on his radio show.
This is a mixed bag of a record for me – the musicians are excellent and tasteful and I like the fact that many of the songs are stories. I think Mark is from the UK and I never like the adoption of a quasi-American accent, so many performers do this and it's not for me. Harrison loves these styles of music, it is clear. But at present he sometimes seems more curator than creator. For all that, this record oozes love and positivity and moreover skill.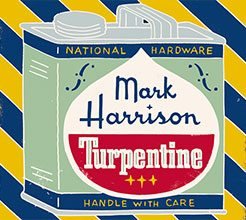 Pete Sargeant
For more information visit Mark's official website here: http://bit.ly/2ct2DsN 
(Thanks to Tracy for all of her help with this review)