Peter Andre
'Come Fly With Me'
(East West Records/Warner Music)
Peter Andre wears many hats; the reality television star hat, the businessman hat, the avid charity supporter hat and the mainstream singer hat amongst others. He has been gracing the music charts since the nineties with his debut self-titled album release appearing in May 1993 (the year this writer was born).
Well twenty-two years later and Andre has returned with a brand new album entitled 'Come Fly With Me', which is inspired in part by the 100th anniversary of Frank Sinatra's birth. The opener 'Fly Me To the Moon' is well produced by Nick Southwood (Oscar-nominated for the song 'Lost Stars' which was performed by Adam Levine, Maroon 5 and Keira Knightly) and you can tell that he has thought about how the arrangements will blend with Andre's voice.
The title track reminds me of those behind the scene television shows at airports from the early 2000s where the great British public vent at the budget airline staff who are just doing their jobs. It does suit this album perfectly though and I can picture the choreographed dancers dressed as air hostesses and pilots as baggage trolleys fill the stage during the live shows.
'Ain't That A Kick In The Head' is the classic written by Sammy Cahn and Jimmy Van Heusen and features that iconic brass intro that just paints a picture of Las Vegas in your mind. Peter does feel at home on this number but it does stray too far away from the original composition. I see both sides of it, on one hand he wants to do justice to the original but on the other he wants to put his Andre stamp on it so it doesn't sound like every other version which is incredibly tricky on an album made up mainly of covers.
'Mack The Knife' will most definitely be a live favourite when Andre tours this album in 2016 and the band consisting of Adrian Meehan (drummer), Adam King (bassist) and Rich Milner (keyboardist) really keep the groove going.
'Little Miss Notting Hill' was written by Southwood and the five-piece harmony boy band The Overtones which makes sense as on first listen to this I immediately went 'This would be perfect for The Overtones!' For me, this is Andre at his most comfortable as he sings about a woman who catches his eye and he nicknames her 'Little Miss Notting Hill'. This track has Richard Curtis romantic comedy written all over it in my mind.
'Mysterious Swing' is Peter putting a bit of swing into the song that he is best know for and it has a lovely piano and vocal intro that sets the tone perfectly. Now unfortunately we aren't treated to the gentleman in the original who informed us 'Baby girl! Tonight is your lucky night!' but they've kept the percussion and added subtle drum hi-hats.  The session musicians' horn section are first class but the overall delivery lacks passion. 
Now the closing track 'Turn It Up' has created some fiery debate at JLTT HQ as we try and figure out what song it sounds like. The chorus is incredibly similar to 'Uptown Funk' but my colleagues seem to think it sounds like that loveable eighties group Wham!. The lyrics 'I get nasty! I get funky! I get dirty! Oh don't hurt me!' seem quite confusing as you try and work out who is trying to hurt him. Maybe he is feeling threatened at a seventies themed car wash fundraiser… Perhaps we'll never know. Nothing preserves credibility like ending the song with 'This is my jam!'  though (Sorry for the pun)
In conclusion, this is for current and loyal Peter Andre fans and not the occasional listener. When he tours this album with a full band and brass section, I can see packed houses every night and thousands of happy concertgoers which is a win-win for everybody and I do understand why people like Peter Andre's music releases and attend his shows.
My dad feels the vocal phrasing is far too similar to the well-known original versions which doesn't put Peter's own style to the fore.
He has a fantastic collection of classic songs which will stand the test of time but I'm not yet convinced they've stood the test of Andre.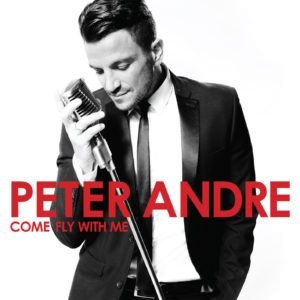 Glenn Sargeant 
Peter Andre's new album 'Come Fly With Me' is out now on East West Records/Warners. In addition, Peter Andre will be embarking on a 15-date headline 'Come Swing With Me' Tour in 2016 at the following venues:
February 2016
Monday 29th – Leicester, De Montfort Hall http://www.demontforthall.co.uk/events/events.php/2016/1517/peter-andre
March 2016
Wednesday 2nd – Nottingham, Royal Concert Hall http://www.trch.co.uk/index.aspx?articleid=30381
Thursday 3rd – Newcastle, City Hall http://newcastlecityhall.org/event/peter-andre-come-swing-with-me-tour-2016/
Saturday 5th – Glasgow, Clyde Auditorium http://www.secc.co.uk/attend/event-listings/exhibition-details.aspx?EventID=2882&SpecialEvent=True&EventName=Peter%20Andre
Sunday 6th – Manchester, O2 Apollo http://www.ticketmaster.co.uk/event/36004F4D878B127D?brand=livenationo2
Tuesday 8th – Liverpool, EchoTwo https://www.ticketing.accliverpool.com/echo/online/seatSelect.asp?BOset::WSmap::seatmap::performance_ids=F3AEF68E-9FA6-422A-85B7-38D0BA3F7ED8
Wednesday 9th – Leeds, First Direct Arena http://www.eventim.co.uk/tickets.html?fun=evdetail&doc=evdetailb&key=1507807$6625137&affiliate=FDA
Friday 11th – Brighton, Centre http://brightoncentre.co.uk/whats-on/2016/peter-andre/
Saturday 12th – Plymouth, Pavilions https://www.plymouthpavilions.com/Online/default.asp?doWork::WScontent::loadArticle=Load&BOparam::WScontent::loadArticle::article_id=6F571329-057D-404A-A3C5-98628F67DEDE
Monday 14th – Cardiff, Motorpoint Arena http://www.livenation.co.uk/show/770863/peter-andre/cardiff/2016-03-14/en
Wednesday 16th – Bristol, Colston Hall http://www.colstonhall.org/shows/peter-andre-2016/
Thursday 17th – Bournemouth, BIC http://www.bic.co.uk/whats-on/peter-andre-2016/
Saturday 19th – Birmingham, Symphony Hall http://www.thsh.co.uk/event/marshall-arts-2016/
Sunday 20th – London, The O2 http://www.theo2.co.uk/events/detail/peter-andre
Monday 21st – Ipswich, Regent Theatre https://apps.ipswich.gov.uk/PEO/show_events_list.asp
Tickets are on sale now. Priced at £35 / £30 and limited premiums for London and £32.50 / £27.50 and limited premiums for all regional dates, they'll be available from www.ticketmaster.co.uk, www.gigsandtours.com and www.ticketline.co.uk. 'VIP TICKET EXPERIENCES' are also available from www.eventtravel.com
(Thanks to Pete Sargeant and Dan Deacon at Deacon Communications for help with this review)