Ksyran – 20 Questions
Ksyran has been selected to present and perform the Song of the Year 2016. Here the actress/playwright and writer/singer answers one of Pete's customised question sets. Unable to resist booting him on the question regarding animals, the rest of her answers are music-related. Enjoy!
The third track of an album is often a classic- can you think of any? (track/artist/source album)
David Bowie "Let's Dance" from his album "Let's Dance"
Madonna "Like a Virgin" from her album "Like a Virgin"
What have you worn on stage ever that makes you laugh now?
A tree costume…but actually it did help when I had my recall at Guildhall School of Music and Drama and I had to be a tree….
Which of your own songs show you a/ at your most lively b/ your most reflective
"I Can't", is one of my songs where I put all my performing energy into, for that song I defiantly use my acting skills!
" Skin" is one of my songs where I reflect a lot, it's about temptation…
Which of your own songs do you find yourself explaining the most and why might this be?
" Hello" is a song I express myself and show my venerability .The song is about betrayal and the hurt you feel when someone close to you sticks their knife in your heart and twists it…
Which instruments do you play?
A the age of seven I started piano lessons, I remember my teacher sleeping through my whole lesson, I think that's how I ended up playing softly with lots of emotions.
Imagine that Annie Lennox and Michael McDonald record a duet – which song (by anybody) do they do and who is in the band?
I adore Annie Lennox, she is super cool and someone for us women to look up to!
Last year I sat next to her in a restaurant in London and I gave a big admiring smile to her, she was out with her girlfriends so didn't want to disturb. I know how important girly time is!
Let's say…. 'Come Together' the Beatles song, backed by Tower Of Power!
When you come off stage, what two things do you hope to have achieved or attained with the performance?
When I walk off stage I love that feeling that the audience want more. For me stage is where I belong, I feel alive!
 Your favourite Bowie album ..any reasons for the choice?
"Let's Dance", I love LOVE "China Girl"!!! My favourite track ever!!! It's constantly on my mind, through my life, forever!
He is/was a genius such an inspiration, such a loss for the whole world.
He gave us his last gift his beautiful album "BlackStar", I cry listening to "Lazarus".
What special magic or touches do you experience working at Metropolis in Chiswick?
Metropolis studios is an institution, it has a soul! Very creative environment with all it's history. I feel inspired and write in their studios. Adele, Amy Winehouse, and all these wonderful artists enjoy recording there
 If you could duet with Iggy Pop, which song of yours or his would you nominate and why?
A duo with Iggy Pop would be amazing to make, especially with his track "Real Wild Child" ! …I have always been a wild child:)
You have worked in New York, on your stage presentations. What six words sum up that city?
Buzzing, wild, cool, hot, crazy, mad – that is what NYC is to me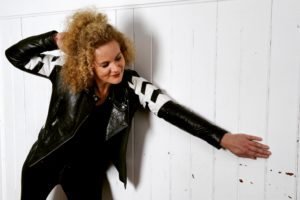 Your favourite contemporary artists? what do you get from them or admire about them?
I think Lady Gaga is great! She reinvents herself like David Bowie, she lives and breathes her art ! I saw her live at Montreaux Jazz Festival and loved her performance with Tony Bennett this summer!
Do you consciously look after your voice and how do you do this?
I am so bloody lucky to have had famous Patsy Rodenburg as a voice coach for three whole years at Guildhall School of Music & Drama.
She taught me all the tricks thank god now that I'm singing and screaming at my four kids everyday;)
Do you like live albums? Which ones might we enjoy if we haven't heard them? (That rules out 'Donny Hathaway Live ' !) and why?
I like 'Supertramp Live In Paris'….by the way Donny's daughter Lalah Hathaway is wonderful in "Baby Don't Cry"! She's got great stage presence and her voice is fab!
Is there a novel that you would like to write the score for or contribute a song or two to?
Yes "Victoria" by Knut Hamsun! I read the novel as a teenager and I could not put it down, it made a strong impression on me.
So if it ever became an international film I would love to write the music for it, lots of passion!
Is there any Disney song from any era that means something to you?
I think "Let it Go" sung by Elsa in " Frozen" made a super impression on the whole world! Such an important message, I believe (and if you think the lovely Ksyran and I disagree on THIS..read on ! – PS)
What would your super-power be if you could transform yourself into a comic book heroine?
I would love to be Wonder Woman and save all the women in the world!
 Do you think America will appreciate your new album? Is it aimed at any particular market anywhere?
America loves my album, Smoke In My Veins, and would like to start airing it now, super exciting but also scary since it's so far away…
I have no time for pets or animals …what am I missing out on? (good luck with this one!)
When you have children you can not, not have animals I believe! It's a part of their education!
Is there a song or recording that fades away too early for you? For some, it's 'Wuthering Heights'………
" Take On Me " by A-HA – great song and revolutionary clip!
Pete Sargeant
Ksyran's new album 'Smoke In My Veins' is out now. You can read our review of the album here:  https://justlistentothis.co.uk/reviews/ksyran-smoke-in-my-veins/ 
(Thanks to Ksyran for taking part in our 20 Questions With…' series and Sam for all of her help)