Nick Heyward – 20 Questions
An upcoming tour with other contempories, plus other creative events promoted us to ask this distinctive singer a set of questions in our popular series. Please enjoy these responses:
The third track of an album is often a classic- can you think of any? ( track/artist/source album)
Is that so? I tend to prefer track 10, like For No One off Revolver.
 What have you worn on stage ever that makes you laugh now?
A large afro wig. I felt like I'd come home.
Which of your own songs show you a/ at your most lively b/ your most reflective
Lively is Favourite Shirts because it was bursting out of nowhere-land and reflective is The Traffic in Fleet Street. It recalled my commercial art days in the late '70s, which left a very strong impression. I love that area and visit as much as I can.
Which of your own songs do you find yourself explaining the most and why might this be?
Love Plus One: "Where does it go from here, is it down to the lake I fear?" probably because it sounds like a riddle. I don't know why, but I get asked to explain this on a regular basis. Maybe I'll end up living beside a lake full of alligators…
Which instruments do you play?
Guitar, bass, drums, keyboards, harmonica
Randy Newman and Suzanne Vega record a duet – which song (by anybody) do they do and who is in the band?
They would do Silver Star by The Four Seasons. All the Four Seasons and me are in the band.
When you come off stage, what two things do you hope to have achieved or attained with the performance?
I don't really think about it as long as I do my best. Then it's job done.
Your favourite songs – by any artist, any genre – that mention in the title a/ Black b/ Blue and c/ Silver
The Four Seasons – Silver Star – one of my favourite songs. ELO – Mr Blue Sky, AC/DC – Back in Black, Beatles – Blackbird
Which is the most enduring Haircut 100 song, for you and why?
That's Fantastic Day, it just goes on and on. And it does live too. Sometimes I have to drag myself off stage.
 If you could duet with Stevie Nicks, which song of yours would you nominate and why?
A song from my new album called 'Perfect Sunday Sun' because it lends itself to female accompaniment and I think it would suit her style as it's reflecting about the film business.
Blair Cunningham is a big favourite as a musician round here…..how did you find working with him on songs?
Easy like Sunday Morning. A joy to work with. My best mate in the band and my mum's favourite.
Your favoured stage instruments and microphone?
My 1967 Gibson 330 and any microphone that's clean – preferably brand new and nice and present.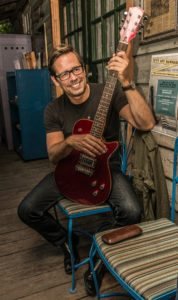 Do you consciously look after your voice and how do you do this?
No dairy, no stress and singing around the house as much as I can. Keep it healthy with a plant-based diet and I use positive affirmations to keep it relaxed.
Do you like live albums? Which ones might we enjoy if we haven't heard them? (That rules out 'Donny Hathaway Live ' !) and why?
The Who Live At Leeds, Frampton Comes Alive! and Burlesque's debut album all spring to mind. If the magic is captured, which is an art form, then the live recording can work wonders.
Is there a novel that you would like to write the score for or contribute a song or two to?
The Old Man And The Sea by Ernest Hemingway. I think it would be exciting.
Is there any song from any musical that means something to you?
Yeah, Symphonic Intermezzo from Cavalleria Rusticana by Pietro Mascagni. Melts me every time.
What would your super-power be if you could transform yourself into a comic book hero?
Invisibility. Works wonders.
What advice would Nick Heyward now give to Nick Heyward aged 20?
Relax. Breathe. And don't worry. And never sell that flat in London.
Your singing seems to have changed in some ways since 'Pelican West' days…do you agree and if so how would you comment on this? 
Yeah, on Pelican West I used to sing more as an instrument. And I've got into singing since using my voice more as a singing voice. I found my voice, really. I enjoy singing more now.
 Is there a song or recording that fades away too early for you? For some, it's 'Wuthering Heights'………for me it's 'Polk Salad Annie' but I got Tony Joe White to do me the full wah wah version!
Faure's 'In Paradisum' performed by the Choir of King's College Cambridge because it's too beautiful and always ends too soon.
Pete Sargeant
Nick Heyward's new album will be released in 2016. In addition, Nick Heyward will be taking part in Tony Denton Promotions Presents 'The 80's Invasion UK Tour' in March 2016 alongside Big Country, Midge Ure and Curiosity Killed The Cat. The fifteen-date UK Tour is sponsored by Absolute Radio 80s and will stop at the following venues:
Wednesday 2nd March 2016 – King's Theatre, Southsea, United Kingdom http://kingsportsmouth.co.uk/whats-on/music/80s-invasion-tour/
Thursday 3rd March 2016 – St George's Hall, Bradford, United Kingdom http://www.bradford-theatres.co.uk/whats-on/80s-invasion-tour-2016
Friday 4th March 2016 – Royal & Derngate, Northampton, United Kingdom http://www.royalandderngate.co.uk/whatson/2016-2017/Derngate/80sInvasion16/?view=Standard
Saturday 5th March 2016 – Indigo at The O2, London, United Kingdom http://www.axs.com/events/279414/80s-invasion-tour-2016-tickets
Sunday 6th March 2016 – Philharmonic Hall, Liverpool, United Kingdom http://www.liverpoolphil.com/17119/events-contemporary-music/80s-invasion.html
Wednesday 9th March 2016 – Colosseum, Watford, United Kingdom https://watfordcolosseum.co.uk/Online/default.asp?doWork::WScontent::loadArticle=Load&BOparam::WScontent::loadArticle::article_id=0CD342A7-DFBC-46DD-AC08-FDB12F43750E
Thursday 10th March 2016 – Lighthouse, Poole, United Kingdom http://www.lighthousepoole.co.uk/80s-invasion-tour-2016
Friday 11th March 2016 – De Montfort Hall, Leicester, United Kingdom http://www.demontforthall.co.uk/events/events.php/2016/1466/80s-invasion-tour-
Saturday 12th March 2016 – The Anvil, Basingstoke, United Kingdom http://www.anvilarts.org.uk/whats-on/80s-invasion-tour
Sunday 13th March 2016 – The Central Theatre, Chatham, United Kingdom http://www.medwayticketslive.co.uk/
Monday 14th March 2016 – Opera House, Manchester, United Kingdom http://www.atgtickets.com/shows/the-80s-invasion-tour-2016/
Wednesday 16th March 2016 – Princess Royal Theatre, Port Talbot, Wales, United Kingdom http://sro.celticleisure.org/princessroyal/en-GB/events/80's%20invasion%20tour%202016%20%20%20(prt)/2016-3-16_19.30/the%20princess%20royal%20theatre
Thursday 17th March 2016 – City Hall, Sheffield, United Kingdom http://www.sheffieldcityhall.co.uk/events/80s-invasion-2016
Friday 18th March 2016 – Town Hall, Birmingham, United Kingdom http://www.thsh.co.uk/event/80s-invasion-tour/
Saturday 19th March 2016 – City Hall, Newcastle upon Tyne, United Kingdom http://newcastlecityhall.org/event/80s-invasion-tour/
Sunday 20th March 2016 – Playhouse, Edinburgh, Scotland, United Kingdom http://www.atgtickets.com/shows/the-80s-invasion-tour-2016/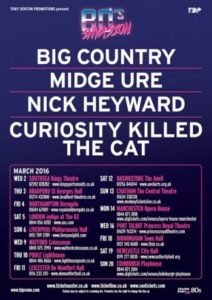 For more information visit: nickheyward.com
(Many thanks to Nick Heyward, Kieran White and  the crew at Impressive PR)