Joe Louis Walker
Saying His Piece
The amiable US blues performer is set to release his latest collection 'Everybody Wants A Piece', our man spoke to Joe about the record and related matters…
JLTT: I do like this new record, Joe..I have been listening to it since it arrived, so can we run through the cuts?
JLW: Sure!
The opener which is the title track is really lively and you're throwing some neat key changes on me there – how did this number come about?
OK, I needed a song for the beginning of the album, something that was upbeat..now we had considered some of the other songs, but I wanted a track that kinda showcased the guitar playing and grab everybody's interest, y'know?
There's a touch of my friend Ernie Isley going on in there..
(Laughs) Yeah! Ernie channeling Jimi (Hendrix)!
It's you, man! But that Isleys drive is there..you think it's going to be an instrumental then this great vocal comes in..
Yeah, it's sorta back-to-front, there!
You've actually done some of my favourite songs ever on this set amongst your own material…I was jumping around the kitchen!
(Laughs) Well thank you! – nobody tipped me off, Pete!
Taj Mahal's 'Do I Love Her'..you really tore into this one
Now every time I see Taj I say 'Man – I'm gonna do that song' – him and the producer Reggie, I like the spaciness of that song and I like the harmonica, with the organ..but we thought we'd do something on the guitar to mess it around and focus on the guitar a bit..he played harmonica in regular position and I play in 1st position, hence gives a different feel to it.
The original has a synth element and a sort of hollow sound to it ..then Taj starts doing this (Howlin) Wolf impression
Exactly! That's one of my favourite records that he did, I like everything about it..it's got 'Everybody Is Somebody' too!
'Buzz On You' has this fine New Orleans vibe to it, with the piano
Yeah that's my former producer Tom Hambridge's song..when he played me this one, I said I liked it but it should maybe be more of a rock'n'roll song
He really understands drums and most other things, as per his work with Buddy Guy.
PLUS he's a great singer
At this point, Mr Walker, the record goes very spooky on me – 'Black & Blue'. Now that song aches..on the cover you have that red Gibson, but this sounds like a vibrato bar is being used
Yes, that's a Stratocaster there..I used several guitars, a 335, a Les Paul and others
OK – 'Witchcraft', 'Voodoo don't work on me'..such a great vocal here, a tinge of Bobby Bland
(Emphatically) I LOVE Bobby Bland..he was a lot more than blues, a real idol of mine. Hey, I was watching some stuff last night, him and BB, y'know – Together For the First Time. Some bits were off Soul Train, in fact – wonderful pairing and music.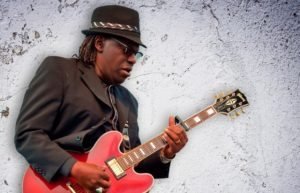 'One Sunny Day', a real toe-tapper isn't it? The voice and guitar riff, it just jumps out at you
You've heard that song before, haven't you? Danny Kirwan and Peter Green..it's one of those great Danny Kirwan vocals and songs..what he did when he was with Fleetwood Mac
It's very you, though – you have that grip on the song. Gospel song is very church of course, organ chording..you do come from a religious background
My keyboard player Phil, he's still a choir director in church – when he can be there – he started playing that at a soundcheck…maybe we should have called this record SoundCheck as so much comes from things we might play when warming up..we were going to put a key change in there, but that might have been a little cute, y'know? It is a little in the Need Your Love So Bad/BB King style really…a guitar feature
Your sixth sense always edits you, playing
Yeah, it's communicating without talking, at that level..it's really good when you can just play and you don't have to tell somebody exactly what to do all the time..Kid Ramos, I can play like that with him..Ronnie Earl..it frees you up, y'know..to come up with stuff
I was talking to Robert Cray last week and it's mainly you and him who can get that natural gospel feel so readily
Robert's great, truly..singer and musician..he doesn't play to impress but to express. Has such a handle on what he does
'Wade In the Water'..,I have few favourite versions..maybe the first one was Ramsey Lewis
Oh! I remember that, sure do. That's one song you will here everywhere, if you ever go to a Baptist church in the United States or Down South, the preacher start that off and everybody will join in… Wade is one of those tunes, everybody knows..so my version, this is how it's ended up as you hear it now.
A bit like 'Will the Circle Be Unbroken', in Country
That really is another of that type of tune, yeah ..
The other favourite of mine is Man of Many Words – Buddy Guy on Atlantic Records, the album with Junior
Ha! Now on that song, you're not going to outplay Buddy..he's playing every note on that gee-tar that he can! I tried to back off it a bit, do a different arrangement but true to the song, let it breathe somehow..Atlantic gave them one day to make that record! Even with Dr John, (Eric) Clapton and all involved…J Geils band played great on it
'Honeydripper' I liked
Yeah! He was playing so restrained on that, it's so good..now he's more over-the-top! That's his style though
Buddy says to me he's not an original..I said 'you have to realise what 'Hoodoo Man Blues' did for players my age..'
It's one of the Top Ten Desert Island Discs- devastating! Not to say that Live At The Regal isn't just as important – but Hoodoo is something else!
'Young Girls Blues' – great rolling tempo, you sound very comfortable
It's traditional blues. Like stuff my mother played to me. It's hard to screw up!
'35 Years' – with the buzzy slide and you suddenly sound twenty years older
(Laughs) Finally acting my age, Pete! I play a lot of songs in different keys, I try not to stick to one or two keys. It can put a different kind of tension on your vocal, make you sound an alternative version of you..varies the register
You must be happy with the range of this set?
I sure am, mainly because my band plays on it…new label, new situation, new co-producer..let's get out of the comfortable zone, give them something new..
Pete Sargeant
Joe Louis Walker's new album 'Everybody Wants A Piece' is out now on Provogue Records/Mascot Label Group. You can read our review of the new album here: https://justlistentothis.co.uk/reviews/joe-louis-walker-everybody-wants-a-piece/
For more information visit: www.joelouiswalker.com
(Photo Credit for photo in article and feature image goes to Marilyn Stringer)
(Thanks to Lee Puddefoot and Steve Marsh at Mascot Label Group and Joe Louis Walker)