Harriet Announces New Single 'First and Last'. The song is taken from her debut album.
Rising star Harriet has an album out in October and Pete discussed the songs with her over dinner for a feature…in the meantime we can bring you a cut from the record being a brand new single 'First & Last'.
Harriet's delivery somehow makes you hang on every word and melody rules and yes, I have offered to play the part of Tony Peluso on guitar if she ever does 'Goodbye To Love'!
Her excitement over the Royal Philharmonic embellishing her songs is quite endearing and we shall review the full album in a little while.
Effortlessly plucking at tear-stained heart-strings, 'First and Last' delivers a classic tale of first love, a true love that never fades. Rich and luxurious, Harriet's vocals are as compelling as crushed velvet, delicately woven through Steve Anderson's production of epic rhythms and strings, delivering a masterful tapestry of melodic love. Co-written by Harriet and Steve and the legendary Judie Tzuke, 'First and Last' is sheer musical opulence.
Choosing to work with top people is already paying dividends..this music isn't for everyone but here at Just Listen we sense quality here
Enjoy…
You can read our full review of Harriet's live show at The Pheasantry, Chelsea, London, United Kingdom here: http://bit.ly/2aG7Ai3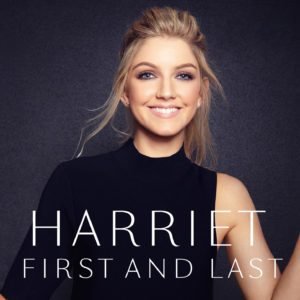 Pete Sargeant
Harriet's second single 'First and Last' and her debut self-titled album will be released on Friday 7th October 2016 on Bright Star Records. In addition, Harriet will be performing an official album launch on the day of release at St James's Theatre Studio in London, United Kingdom. Tickets are priced at £20.00 each (excluding fees) and are available to purchase from here: http://bit.ly/2bj2fbI
For more information visit her official website here: http://bit.ly/2aG7Ai3
(Many thanks to Sam for help with this announcement)