Joe Bonamassa
Blues of Desperation
(Provogue/Mascot Label Group)
So the dark-glassed dynamo plus Kevin Shirley and crew head over to Grand Victor Sound Studios (previously RCA Studio A) in Nashville and over eleven days they cut this collection. The team includes many of the players we have seen on JB tours here in England – keys king Reese Wynans, ace bassist Michael Rhodes (a man whose lines on Jill Sobule's first album had me spellbound, something I mentioned to her when we met in London..not to mention that Cicada's record with Rodney Crowell), horn players Lee Thornburg, Paulie Cerra and Mark Douthot, drummers Anton Fig and Greg Morrow. The ace up the sleeve however turns out to be the vocal ensemble of Mahalia Barnes, Jade McRae and Juanita Tippins.
Joe is on record as wanting to push ever forward and not repeat himself. I like the material on this set more than the cuts on Different Shades, the performances seem a tad less self-conscious. As though the songs are the starter, main course and dessert, rather than excuses to play out. As our Glenn has pointed out, the edition of the last studio album to get is the Target version, with the extra tracks which are all splendid. Bonamassa credits Shirley with frowning upon any auto-pilot playing or singing and as being a catalyst for the fairy dust additions that make you want to keep playing the album.
Joe of course has a potential problem. The more he moves away from Gary Moore style axe bluster, the less keen the old blues fanatics will be. However like all creative artists, Joe cannot keep making the same record over and over. Miles Davis was ever moving forward and experimenting though he knew full well he could have kept making Kind Of Blue for the rest of his days. The diehard fans would bitch about whatever he did but Miles was never a prisoner to their narrow perspective. Having said that, there IS plenty of hot guitar playing on this set, Joe has not been given a lute and wandered into the woods and back a few centuries (I bet Dom regrets giving Sting that stringed instrument!)
The artwork evokes Jeff Beck's You Had It Coming but the opening number 'This Train' hits you with a powerhouse drum intro and distorted slide guitar, piano like Chuck Berry 45's and makes me think of John Fogerty. That's a compliment. Joe solo's over a Bo Diddley 6/8 run. 'Mountain Climbing' keeps the edge up with heavy riffing, a rocks-in-the-road lyric, descending bridge and delay on the vocal. The legato solo sounds good on this blue-collar scenario cut. Do I detect a hint of John Mellencamp?
'Drive' has pattering, stealthy drums and whilst not going easy on the vocal delivery is a reflective tale. No fuzztone but a choice reverb. A great song imho. 'No Good Place' uses a swaggering tempo and unusual chord progression. Unsettled lyric and the strings sound fine, with another well-handled vocal.
The title cut has a techno intro pulse settling into and eastern tinged melody. Inevitably the Zep comparisons will come..it's quite an epic, I was waiting for the gong..if anything, though this is closer to vintage East of Eden/ Quintessence in flavour. We have covered a lot of ground already, haven't we? But then the steady acoustic and warm female chorale on 'The Valley Runs Low' take us somewhere else, again. This really is Rodney Crowell territory and sounds menthol fresh. The words refer to getting in one's own way, we can all relate to that, I guess.
I wonder whether Bonamassa ever uses what is commonly called Nashville Tuning but is in fact Nashville Stringing, in higher octaves? If I get the chance, I'll ask him.
The JB fans will lap up the choppy edge and wah hint of You Left Me Nothin'; also the ominous riff of 'Distant Lonesome Train' (what IS it about trains and The Blues?)
* This will be a stage favourite, much like Savoy Brown's Hellbound Train.
A slow and steady brooding 'How Deep This River Runs' has atmosphere is spades, the lyric truly blues of desperation. The backing vocals here and intense guitar solo make for a brilliant inclusion. A switch to the lighter and jazzier 'Livin' East' finds a more barroom sound, sax and all. Acoustic guitar over a loping tempo, lovely stuff.
'What I've Known' is a blues with the horns, nodding to the late B B King.
Throughout this set, Bonamassa sounds eager to deliver the songs and at times not a little angry. The titles could be straight off a Bill Monroe or Hank Williams record. Though recorded in Nashville it doesn't sound conventional laid-back Nashville. The clarity of the recordings is fine, the drumming too heavy-handed for me at times, but maybe Ed Cassidy, Clive Bunker and Mitch Mitchell spoiled things for ever for me, on that front. The vocals – by everyone – are the best so far on a JB record and the songs treated as the main attraction. This release goes way beyond guitar-nut appeal and all the better for it.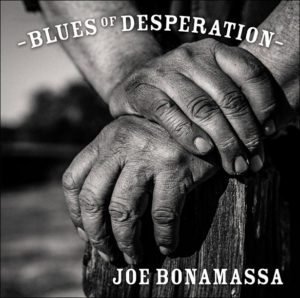 Pete Sargeant
Joe Bonamassa's new studio album 'Blues of Desperation' is released worldwide on Friday 25th March 2016 on Provogue/Mascot Label Group. In addition, Joe Bonamassa will be embarking on a three-date UK Tour in March 2016 at the following venues:
Saturday 19th March 2016 – Barclaycard Arena, Birmingham, United Kingdom http://bit.ly/1puzno3
Sunday 20th March 2016 – BIC (Bournemouth International Centre), Bournemouth, United Kingdom http://bit.ly/1nsbzzn (Extra Seats Released) 
Monday 21st March 2016 – Plymouth Pavilions, Plymouth, United Kingdom http://bit.ly/1LaGkEu
For more information visit Joe Bonamassa's website: http://bit.ly/1TFtO30
(Joe Bonamassa Image Credited to Rick Gould. Thanks to Peter Noble at Noble PR and all of the UK division at Mascot Label Group)