Shaun Escoffery
In The Red Room – Special Edition
(Dome Records)
As soon as Shaun Escoffery's new album 'In The Red Room' starts with the soulful 'Nature's Call' it is clear that this album oozes with summer vibes especially with Mark Vandergucht's  sparkly guitar and James McMillian's lush horns.
'Perfect Love Affair' features a lovely flute sound courtesy of Jake Telford and it blends really well with Lucinda Belle's harp and the rich strings. It isn't surprising that this track received substantial radio airplay on BBC Radio 2 as it is the perfect song for Shaun's voice.
'Nobody Knows' is guitar driven at the start but then develops into something more with funky bass and precise saxophone which provides the track with a Marvin Gaye-esque tone.
'Crazy' has Shaun explaining to a female companion about her attitude as he sings 'You're gonna drive a man away cause' no one's gonna take this'. Although the subject matter isn't what you would define as jolly, it creates pictures of sunny beaches and palm trees which is quite nice in the freezing UK!
'You' focuses primarily on Shaun's vocals and it is the definition of the phrase 'short and sweet' as it is only a couple of minutes long but showcases just what Shaun is capable of.
'People' is an anthem about how much madness there is in the world at the moment and how it is the people that can make the difference. If you enjoy The Isley Brothers 'Harvest For the World' and its catchy sing along chorus then this song is definitely for you.
'Do U Remember' is a reflective piece that is complimented by Robin Mullarkey's funky double bass but something about this track is missing for me and I'm not really sure. For me, he doesn't sound as confident on this track as he does on 'People' but it is still musically well-executed.
'Gotta Be More Than This' would be perfect on the official film soundtrack for the original 'Save The Last Dance' film as it deals with gang violence and poverty but heavily uses music and the medium of dance to help the plot. This is a hidden gem on this album for sure.
'Time' is an interlude piece that helps break the songs up quite nicely whilst 'Day After Day' is one of those songs that builds up the closer it gets to the chorus. It is well-paced and that makes it enjoyable to sit back and listen to.
'Get Over' sounds like someone has assembled Mark Ronson, Marcus Miller, Ernie Isley and James Brown's horn section for a funk collective. If you are looking for a song to dance to at your summer 2016 barbecue then look no further than this as it is bound to get your guest partying on the patio!
'By Your Side' is clearly influenced by classic songwriters such as Burt Bacharach and Randy Newman  and it is a lyrical masterpiece. Shaun Escoffery and the musicians on this number should be very proud.
In conclusion, Shaun Escoffery has real emotion when he sings and he is fortunate enough to work with some of the best musicians for both recording and live performances. He is a soul superstar whose voice is silky smooth and his manner is really down to earth. With each release he gets stronger and stronger and I believe that for him, this album is just the beginning. I am very much looking forward to his new album as well.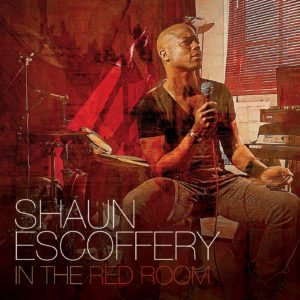 Glenn Sargeant
Shaun Escoffery's 'In The Red Room: Special Edition is out now on Dome Records.