Judith Owen
Somebody's Child
(Twanky Records)
One thing about this singer-songwriter that strikes the listener the more familiar one becomes with her and her work is that she is simultaneously endearing and scary. Endearing because she admits to being hyper-sensitive and well….high maintenance, It's very much part of her personality and informs her lyrics, onstage demeanour and delivery. Scary because at the drop of a hat she can unleash a torrent of scorn and whilst she plays this up for laughs it might perhaps be a tad dangerous to be in the line of fire. Owen cheerfully confesses that her other half Harry Shearer manages to put up with her more acidic side, even neutralise it with his own approach to life. But she's not the only good-looking, creative, talented artist to have a fiery personality – Callas and Bassey, anyone? (Hey Judith, I didn't cite Joan Crawford..even from this distance)
Anyhow, a musical Joan Rivers is not a bad thing to have on the scene and I have to say, her records get better and better. The verses, choruses, middle eights, bridges and especially lyrics are in the classic Laurel Canyon mode, the melodies stronger with every release and the musicianship in there with the very best like Carole King, Joni Mitchell and Vonda Shepard. It's no surprise that legendary players like bassist Lee Sklar are happy to work with Owen, the songs are that good, that memorable and built to last.
Lead cut 'Somebody's Child' starts the set off in reflective vein, being a plea for sympathy for those down on their luck, with a beautiful string arrangement. The strings contribute much to this collection, sometimes tender, sometimes strident.
'Send Me A Line' has an emphatic tempo and sounds like sunshine bottled, again a self-deprecatory lyric, melodic piano chording and an addictive chorus..what a shame Billy Paul just left us, he could have done a great job on this number. This would surely make a great single?
'Mystery' has an almost music box piano intro, before settling into a sotto voce lament with just a tinge of McCartney in the cadence; 'Tell All Your Children' has more guitar in the mix and is a kind of blues, in that often Bill Withers was a blues man in his delivery. Hey, these may sound fancy names to evoke in this piece but when you hear the disc you are unlikely – I hope – to argue with the references. 'We Give In' is more of a funk piece with that cool Sklar bass, it's not just Janis Ian who can pull this kind of song off, conspiratorial delivery to the fore. 'No More Goodbyes' is sedate and gorgeous and will be many listeners' favourite cut.
'Arianne' is a moody tale of life's journey set to a skipping tempo; 'More Than This' is the old Bryan Ferry tune. I always detested his oilslick vibrato and never really took to this composition, however striped back to basics and minus the wobbly inflections the tune has a sweet melody. Judith never does a cover, she does a version and I of all people go for this approach. 'That's Why I Love My Baby' is again a sunny little song, Nina Simone without the scowls, in a way. 'I Know Why The Sun Shines' takes descending blues phrase and turns on the heat, but no shrieking. This is her Cole Porter side seeping through and maybe my favourite cut here. 'Josephine' is blissful and bass-driven..how many ace melodies can this performer come up with on one album?
I used to sit in sometimes with drummer Mickey Waller (Jeff Beck Group) and one of his first projects was running the stage musical Hair. I think he would have liked Owen's take on Aquarius, one of the big hits from the show, brush drumming and all and that ominous bassline, it is stealthy stuff with some welcome tremelo'd electric piano overlaid and wailing guitar hovering in the back of the mix; closing song 'The Rain Is Gonna Fall' sees the collection out with a softly torrid and string-strewn soul ballad.
I read a piece recently in which the great Carole King said she had no plans to make another album and was writing books now. On this form, Ms King does not need to write more songs, this collection has enough quality material to keep most of us humming along.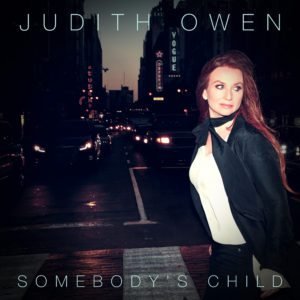 Pete Sargeant
For live dates and more info go to her official website here: http://bit.ly/1W1W6Fn
(Thanks go to our friends at Republic Media)