Slooom
'Honey' (Single)
(Independent)
Now when this track hit my email inbox with the subject 'Slooom' for review, I was intrigued to say the least. After a bit of investigation I came across their definition of the word 'Slooom': To sleep lightly, to doze, to nod; to be half-asleep.
Slooom is an Austin, Texas based dark-pop electronic duo. Combining electronic audio/visual experiences and elements of current pop artists like Sia with more abstract electronic music like the Knife and the Books.
Their latest single 'Honey' features an electronic keyboard intro which they've blended with the sound of buzzing bees and straight away that late night club vibe kicks in. The lead vocals from Lauren Bruno are clear and are incredibly hypnotic especially with the music which sounds like a group of robots finding a xylophone. The pace speeds up and the song becomes intentionally erratic but that is part of its charm. 
Although it might not come across in the song, 'Honey' actually has a powerful message attached to it, as explained by Slooom:
The positive influence of honey on the world is demonstrated by the innumerable ways in which it has been used throughout time. In poetry, food, medicine, modern and contemporary art, honey has always been a symbol for sweetness in life. Today, modern day commercial farming and the pesticides being used in the United States has decimated our population of honey producing insects to the point that one bad winter could leave fields fallow. The video for "Honey" by SLOOOM is a reminder of our eminent doom and how decadent pleasures of the past are now symbols of our collective doom.
The track was written and produced by Delwin Steven Campbell and Lauren Bruno who started singing when she was 4 and was in bands from the age of 13. She was diagnosed with Ulcerative Colitis at 11 years old and she then came to the attention of Pearl Jam's Mike McCready who also has crones and colitis. Having agreed to keep in touch, Bruno thought of the song 'Red Balloon' and the pair went into the studio to record the song as a way of creating awareness.
In conclusion, Slooom is an exciting project which has subtle echoes of artists such as Bjork and Flying Lotus in terms of their overall sound. With enough promotion, I think this track would be incredibly popular in the nightclubs around the world as it has that electronic pulse which is perfect to dance to. If you like acts such as Sia and Major Lazer then check out Slooom.
We haven't heard the last of Slooom and I think Honey' is the beginning of their  musical journey.
Glenn Sargeant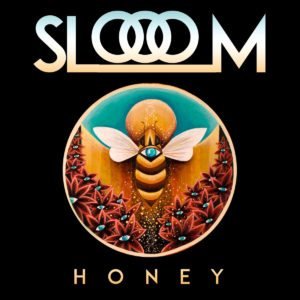 You can watch the music video for 'Honey', directed by Ryan Orenstein here:
SLOOOM "honey" from Ryan Orenstein on Vimeo.
To purchase Slooom's single 'Honey' and for more information visit: https://slooom.bandcamp.com/releases
(Thanks to Kieran White for help with this review)