Philip Murray Warson
The Trees They Grow So High/The Falling of The Leaves
(Independent)
Folk music has been entertaining people for may years and has surged in popularity thanks to support from many individuals such as radio DJ Mike Harding who championed the genre for many years on his BBC Radio 2 Folk Show and DJ and broadcasting legend Bob Harris who has helped folk enter the mainstream with his Under The Apple Tree Sessions.
British folk musician Philip Murray Warson has been making some headway with his music having received airplay on Mark Radcliffe's BBC Radio 2 Folk programme. He has now returned with two new tracks which he has made available online for free.
'The Trees They Grow So High' is a fascinating title and opens with an upbeat violin courtesy of Helen O'Hara, familiar to many for her work with Dexys Midnight Runners – most famously on'Come on Eileen' and the 'Too-Rye-Aye' album – and the current line-up of Dexys.
It is a traditional folk song with a new arrangement and although it is musically well-executed I don't feel that engaged with the track on an emotional level. The song is well-produced and makes sure that Philip's lead vocals are clear throughout.
The second track 'Falling of The Leaves' has a fluid drum beat that has a hypnotic feel and is actually a poem by WB Yeats that has been given some electric guitar to help bring the words to life. It slightly veers into psychedelic rock territory as Philip enlists the  help of Pete Thomas (Bass) Sam Beer (Hammond Organ, additional vocals) and Simon Trought (additional vocals) to conjure up a full rich sound.
In conclusion, I think these songs will be well-received on specialist folk radio shows and stations and although I enjoyed the style and approach of 'Falling of The Leaves', I personally couldn't connect with the songs which of course is not Philip's fault. I would be interested to hear some more material down the line to see where his sound takes him though.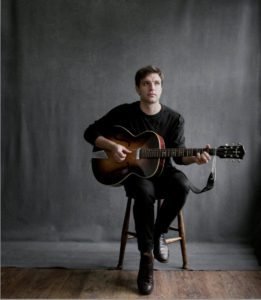 Glenn Sargeant
You can download these songs for free and check out more material by Philip Murray Warson here: http://bit.ly/2ahnVsQ 
(Many thanks to Julia Wayman at Lime Jam PR for help with this review)