Jack Edwards – 20 Questions
He writes, he sings, he plays, his EP recorded in an old church building includes the ace track 'Love & Luck'. Although he's from Yorkshire, we invited Jack to field set of customised questions from Pete and here are his rather splendid responses. Good luck, Mr Edwards!
Could you nominate for us two recordings (artist/title/source album) that make sense as night time listening and two that make sense as daytime listening?
Night time listening:
Tom Waits' "Take It With Me" from Mule Variations – There's something so human and intimate about this record. When I listen to it with headphones, I feel like Tom Waits is sat right next to me playing. He never feels the need to over-cook a song like this one, but I have to change the album over before the next track "Come On Up To The House" comes on, or else I'll start wailing along and wake up the whole house.
Ryan Adams "You Will Always Be The Same" from the album: Demolition – I'm a huge Ryan Adams fan, and I love the way he sings this one. The lyrics are beautiful too, they grab my brain's attention just long enough for it to forget about the day so I can fall asleep.
Daytime listening:
I'm generally quite active during the day; I don't sit still for long. So I listen to more upbeat music whilst I'm out and about. I love "Empty Arms" by Stevie Ray Vaughan (from the album The Sky Is Crying), it just grooves and bounces, and no-one can play like SRV could.
I also listen to things like "Driven To Tears" by The Police (from the album Zenyatta Mondatta). I love the lyrics and the contrast between the verse and chorus sections. Songs just aren't made like that anymore.
It has been said that you shouldn't write songs when you're in love ..what are your thoughts on this notion?
I don't necessarily think that's right, because love has so many different forms. People who were obviously in love wrote some of the greatest songs of all time. One of the most heartfelt songs I've ever heard was Joni Mitchell's "A Case Of You", and that's a song about the despair people sometimes feel because of love. Some people are in love with someone who will never love them back – there's a song or two in that.
Have you ever in your life/would you ever take part in a song or singing contest?
I wouldn't take part in a contest that was strictly for singing. I've been in contests that were for song writing and to show what I'm made of as an artist.
For me, these TV contests like 'The Voice' and 'X Factor' have completely missed the point when it comes to singing. It's all about the vocal acrobatics these days, rather than singing the song with meaning and integrity, so that it resonates with people. To me, it's very important that a singer doesn't get in the way of the song. The song comes first.
You receive two free tickets to a festival – where would you prefer this to be? What three acts would you like to see?
I've not been to SXSW yet, so I'd like to go see Ryan Adams, John Mayer and Monte Montgomery.
The radio is playing…what song would you cross the room to turn UP and what song would you cross the room to turn OFF?
I'd cross the room to turn up "Bartender and the Thief" by Stereophonics
I'd cross the Grand Canyon to turn off 'Anaconda' by Nicki Minaj.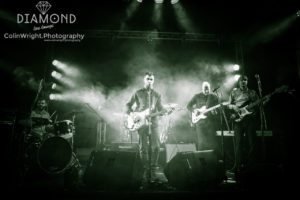 The third track on an album is often a gem – can you think of any? (artist/title/source album) – as many as you like!!!
'Gasoline' by Audioslave, from their first album. That is an absolute diamond. Big riff, grooving drums, Chris Cornell.
Name a song or instrumental that fades too early, for you (artist/title)
"La Cienega Just Smiled" by Ryan Adams, from the album Gold. There's a guitar line that sits on the strings and piano. It just keeps repeating over and over at the end of the song, and I wish it would just go on forever and ever – it's like I'm watching a sailing ship full of all my family glide off into the horizon, I can't take my eyes off it.
Which song – any artist, any title – would have made a fine single release? IF it had been a SINGLE! – why do you think this?
"Rowing" by Soundgarden, from one of their more recent albums King Animal. I've chosen this for quite selfish reasons really; I'd just love to hear it on Radio 1 alongside some of their other selections. It's a really muscular and emotive song, again with a huge riff. It has a really great break into the middle section too. I think it'd catch on with the masses!
A recording that makes you laugh ….intentionally or otherwise! (artist/track/source album)
There's a song called "On Again! On Again!" by a Yorkshire songwriter called Jake Thackray. Many people don't know about him but he was a genius, with lyrics and guitar playing. He had that dry Yorkshire humour that was perfect for writing comedy songs. I think "On Again! On Again!" was the name of the album the track appeared on, too.
David Bowie and Annie Lennox record a duet of one of your songs – what song do they sing? And who backs them?
They'd definitely sing "The Wolf" from my latest EP Love & Luck. My dream backing band would be Steve Jordan on drums, Stevie Ray Vaughan on guitar, Pino Palladino on bass and Freddie Mercury would be brought in on Piano too. And of course, if Freddie decided to join in with BV's, that would be fantastic!
An acoustic gem? What song/tune and who by? What's the appeal?
If it counts, I love the song "Skinny Love" by Bon Iver. The sentiment of that song is so unique. It's such a raw song, that's what makes it so attractive.
Where are you planning to tour next?
I gig as often as I can, wherever I can get. Things are a little complicated for me at the moment. I have a medical condition called Graves' disease that needs treatment. I may have to have treatment that could affect my voice, and I think there'll be time off singing (and gigging) involved. So, I'll use that time to write new material and network some more. I love gigging though, being out there and playing. I have gigs in Leeds, Liverpool and London lined up already for January and February in 2016.
Which of your own recordings show you at your most a/ aggressive b/ relaxed c/ confused?
a) I think "Love and Luck" from my latest EP of the same name shows me at my most aggressive. That song is about hardship and frustration, so it needed that kind of performance from me.
b) I was really relaxed when we recorded "The Wolf" for the latest EP. We'd settled in to recording by that time and I thoroughly enjoyed laying down the vocals for that track. That's why the track has more of a 'tongue-in-cheek' vibe.
c) There's a song I recorded in 2012 called "How Do I Make It Stop?". It's not the best song I've ever written, but I wrote it about a situation that haunted me for ages because I couldn't change it. Looking back, I think I was a bit confused at that time.
Which artist did you go to see perform with low expectations but ended up impressed? Where and when was this?
I took my girlfriend to see Kodaline in Manchester at the start of December 2015. I can't say I'd heard a lot of their music before that concert but they were really tight live. They played a good mix of songs, too. I won't ever be a die-hard fan but I could not deny they were impressive.
Has a radio DJ anywhere (and any era) ever impressed you and if so why?
I have to say, I sometimes catch Jamie Cullum's Jazz show on BBC Radio 2, and he plays some really great stuff. He has a really broad interesting taste in music that exists outside of strict Jazz. I've bought lots of music on the back of hearing something on that show.
Two or three songs with great actual endings (not fades ) by The Who or The Beatles? Or both acts!
"Twist and Shout" by the Beatles.
"Behind Blue Eyes" by The Who.
Your favourite song or instrumental (any genre) with the title including the word 1/ 'One', 2/ 'Five' and 'Seven' ? explain your choices
"Seven Days" by Sting. This song has really great feel, with a really expansive drumbeat that I always love to hear.
"9 to 5" by Dolly Parton. I used to go to a terrible nightclub called Kiko's in Pontefract (West Yorkshire) before I was old enough to know better. They played some real cheese on a Friday night, and this was top of the list. I had some fantastic nights in that place.
"One" by U2. It has great lyrics and a really strong message. Some people don't like Bono, but you can't deny that his voice is incredible.
Suggest a song that reminds you of your childhood – and why might this be?
I remember one weekend when I was about 11 or 12, I caught a documentary about Phil Lynott. I was captivated by his life and the music he created. My Mum bought me a Thin Lizzy compilation album soon after. The first song on that album was "The Boys Are Back In Town" and it was INCREDIBLE!!! It changed many things for me and I just knew I needed a guitar at that point.
Is there a book or novel that you would like to create songs or the score for? Why is this?
"The Silver Sword" by Ian Serraillier. We read this book when I was in middle school, I would have only been 9 or 10. The story was so powerful that it's stuck with me. I'm just waiting for Spielberg to turn it into a blockbuster – I'd gladly write the music for that. Someone might've made a film adaptation of this story already, I couldn't be sure.
Did you enjoy school? Whether you did or not, which song reminds you of schooldays (artist/title/source album)?
There were times that I really enjoyed school, and other times I hated it. Just like every kid I imagine. I have memories from schooldays that make me shudder, like the hideous haircuts we used to go for, and the endless pursuit of the best looking girl in school – saying anything to try to come over all romantic.
I started guitar lessons in year 8, which completely changed my life. I remember sitting for hours in my bedroom practising the solos from "Waiting For An Alibi" by Thin Lizzy. I thoroughly enjoyed every one of those hours carving out my guitar skills – I was terrible for such a long time though, I'm not much better now!
Pete Sargeant
Jack Edwards new EP 'Love & Luck is out now. In addition, The Jack Edwards Band will be supporting Billy Bibby (ex-Catfish and The Bottlemen) on Friday 19th February 2016 at The Leopard Doncaster, Doncaster, United Kingdom. Tickets are priced at £8 in advance and £10 on the door and are available here: http://bit.ly/1PWfTUW
For more information on Jack Edwards visit the following links:
Website: http://bit.ly/1NRM9AU
Facebook: http://on.fb.me/1TFZ8wT
Twitter: http://bit.ly/1PWg3vs
(Thanks to Jack Edwards for taking part in our '20 Questions With…' series, Tracy for helping us with the piece and supplying the images, Glenn Sargeant and Kieran White)