The Rides
Back Behind The Wheel
The second Rides album ' Pierced Arrow ' – another car reference! – is due so what better than to speak again with guitarist and singer Kenny Wayne Shepherd about the songs, his fellow Rides Barry Goldberg and Stephen Stills and everything else!
JLTT: Hey Kenny, how are you man? You're on the Experience Hendrix tour?
KWS: Hi Pete – thanks for getting in touch, we really appreciate it, as last time – yeah we are about two weeks into the tour run right now and we have a show tonight
Well thanks for making time and say hello to Jonny Lang for me and Glenn
Will do! No problem. We have Buddy Guy this time out..it's such a great thing to be part of, with all these fine performers and all those songs..they're just timeless, to me. It's a cool evening out for old fans and new, we do get all ages at the shows, every night…all digging the songs
Just quickly, how was the NY Leadbelly tribute show?
Oh it was the coolest event, at Carnegie Hall in NYC – and it was so good to catch up with your friend Laurence Jones and the band, there. I am so proud of that guy, he is such a good performer and we really enjoyed touring there with them
He's never afraid to step out and be brave and then get back to the theme
Yeah it's that intuition thing Laurence has, it's spot-on. We had such a good time with them in the UK and it was great to see him coming here to play
This second album, Kenny – Kick Out Of It has a sort of Stonesy feel to it, doesn't it?
Yeah I guess it is kinda in that vein, on the tempo and all. It's a fun song to do, for sure
There are cuts on his new record that are a step on from the debut collection, I would suggest
Yeah that is totally correct – the first record was to get things started, y'know but here with the next album we are a little more sure of the direction, more comfortable playing together and working on arrangements. As the band gets more used to each other as players and singers it all starts to evolve, to be more creative, to have and develop our own identity. So that is what you're hearing. What it is, we do all respect each other a great deal, as people and as players. So that is the platform for us to dig deep, to experiment and to pool the ideas. What you hear now is indeed songs that couldn't possibly have been on that first album. They're on our own new template, not having to fit any preconceptions as to what we do or how we sound or anything like that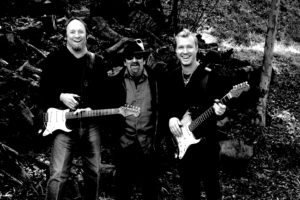 It kind of reminds me of the step from Are You Experienced to Axis Bold As Love, the group character has gelled and then all sorts of influences can come in
Well that's it, the writing together and pooling ideas, it's not ever something you could manufacture, or would want to. So now we can do a song like Virtual World and achieve the sound we aim for
Can you tell me about There Was A Place? It gets to me
Now there are a few reasons why that song is on the record – it has some very profound lyrics, introspective material a but a guy who has lived life. We are definitely playing to the songs on this one and I know you like that approach. Not showing off, but playing what feels appropriate to the music
Who wrote I Need Your Lovin' ?
Barry and I wrote that song, in the studio. It has that Old School vibe to it, that you hear. The piano, man..
Barry without really knowing it can summon up that Johnny Johnson thing that is all over the first Chuck Berry 45's – it just sparkles
He plays it so well, the whole Chicago thing..rock-a-boogie, barrelhouse, ragtime – Barry does all that so very well, don't you think?
It never detracts from the guitars either, it adds this topline of brightness where it's right. Steve talked to me about The Rides with contentment and a touch of pride, saying it gets some of his best sides working. And with his track record, if he says that it's meaningful
Music is a powerful thing and you just want to do it right, if you care enough and have people around you that care enough
Ha that's about feisty female stuff
The single is Virtual World, pretty harmonic
Yes, we are pretty happy with that song, Steve and I get to sing in a more reflective mode, I guess you might call it and it is still part of what The Rides is able to produce, it's within our range….so it's good and positive to include that in the album programme. There again we can do something like By My Side with the acoustic guitar start to it. There are no egos, we're in it for the music itself. I'm sharing the guitar and the vocals with Stephen and I love being part of a unit where everyone weighs in with their thoughts and opinions
Yeah this is Steve, doing his thing! Very much his sense of humour, sense of fun. The lyrics are really funny, the guy is paranoid about being pulled over by The Law and he certainly doesn't want the car to get searched!
Reminds me of Bo's Cops & Robbers. I've Got To Use My Imagination – now this was a big hit for Gladys Knight back in the day, but of course Gerry Goffin and Barry Goldberg wrote the song !
Yes now that's the history, there are lots of versions as you will know but Gladys had a big seller with it. Was it a UK hit, Pete?
The reason I know the number and have played it is that it was on a Spirit live bootleg, Randy California lead vocal
Really ?? I have never heard that, wow !!….I certainly haven't heard that version
Randy told me it was from Ray Charles…he liked Ray and James Brown, hence the cut on Kaptain Kopter . Game On?
That's a roadhouse sorta sound on there, with the harp and Steve's vocal
Then on My Babe the Willie Dixon tune, womankind is celebrated
(Laughs) and that doesn't happen on every blues song, Pete! I really like the positivity, the affection and everything that's in the lyric. It's not complicated at all, but it's heartfelt…and that Bobby Bland arrangement feel is kinda right for what we want, how we want to do the song, in The Rides.
So the elephant in the room question is this: any chance we get to hear The Rides live on this side of the water?
That is the idea, the tour dates over here have gone over really well with the audiences and the group has enjoyed them so much..I think they are looking at dates and possibilities to see what might be arranged..
Pete Sargeant
The Rides second studio album 'Pierced Arrow' is out now on Provogue Records/Mascot Label Group. For more information visit their offiical website here: http://bit.ly/28Vp6u1
(* Thanks Kenny once again and to the Mascot crew)